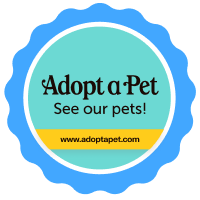 Copper
Meet 13 year old Copper, one of our nicest seniors. He lived happily with his owner since he was a pup. Sadly, his owner has passed away. Copper would love a new home where he could live out his last years in comfort. See more info in his bio!
Click here to see our
available rescue dogs
(Updated Daily!)

You can meet the rescue dogs at our weekend adoption events, or by appointment at the sanctuary.

Beagles and Buddies Sanctuary
23430 Hwy 18
Apple Valley, CA 92307
626-444-9664
Map: http://goo.gl/maps/n5Jiq

Email: beagles@beaglesandbuddies.org
Right now Daisy Mae has a dog brother and a cat sister. Maybe in a year or two we'll need to add another. The funniest thing is that Daisy Mae has recently discovered the joy of swimming. We expected that from the Golden Retriever but he's had nothing to do with it so far... too busy lizard hunting!
Caught doing a little digging in the yard...
how could we not laugh at that dirty face?!



Back