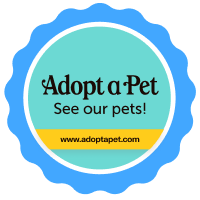 Max & Muffin
Max & Muffin were adopted as 1-yr olds from B&B about 10 years ago They still enjoy playing with young beagles and are healthy, happy and loving life.
Special 2-fer on these dolls! They are inseparable. Their people are now in their 90's and just not able to care for them.....but they've got lotsa love to give to YOU. Foster homes welcomed!
Click here to see our
available rescue dogs
(Updated Daily!)

You can meet the rescue dogs at our weekend adoption events, or by appointment at the sanctuary.

Beagles and Buddies Sanctuary
23430 Hwy 18
Apple Valley, CA 92307
626-444-9664
Map: http://goo.gl/maps/n5Jiq

Email: beagles@beaglesandbuddies.org
Interesting Links
(Webmasters click here)
Resources
Shopping

Amazon.com: Proceeds from your purchase will go to B&B!
Services
Paws With Patience
Pet therapy group in Pennsylvania - check out Christina and her beautiful beagle girl Chloe!
Sky Ark
Free transport for rescued dogs
Planet Doggie Daycare:
Doggie Day Care in Pasadena. Mention B&B and get 1 free day!
Classic Cuts, Dog Grooming - Lynda L. Dahlquist. Temple City, 626.286.4833
Fluidi-Ch'i - Feng Shui specialist. For more info, call 310-210-3390 Fluidi_chi@hotmail.com
Misc.
Would you like to show your support by linking to us on your website? Feel free to use one of our banners below... simply save the banner you want to your server and link to: http://www.beaglesandbuddies.com