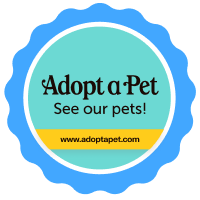 Max & Muffin
Max & Muffin were adopted as 1-yr olds from B&B about 10 years ago They still enjoy playing with young beagles and are healthy, happy and loving life.
Special 2-fer on these dolls! They are inseparable. Their people are now in their 90's and just not able to care for them.....but they've got lotsa love to give to YOU. Foster homes welcomed!
Click here to see our
available rescue dogs
(Updated Daily!)

You can meet the rescue dogs at our weekend adoption events, or by appointment at the sanctuary.

Beagles and Buddies Sanctuary
23430 Hwy 18
Apple Valley, CA 92307
626-444-9664
Map: http://goo.gl/maps/n5Jiq

Email: beagles@beaglesandbuddies.org
Below is a complete list of our dogs. You can click on any column heading to list by name, primary breed, gender, age, size, or color!

And, you can search for any word in a dog's biography--name, breed, second breed, you name it!

When you see a dog you like, click his/her name or picture to learn more.


(Please note that at times, our servers are overwhelmed with requests and may take a few seconds longer to respond to your request.)